Attractions Near The Shannon East Ferry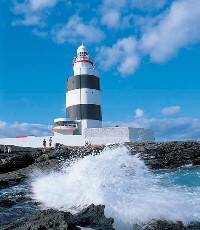 The ShannonShannon East Car Ferry is a great starting point for visiting many venues and attractions in "The Sunny South East" such as:
Hook Lighthouse
Reputed to be the oldest lighthouse in Europe (about 800 years old), and one of the oldest operational lighthouses in the world. In earlier time a beacon was kept alight by monks as a beacon for shipping heading for the port of Waterford. Between the 10th and 12th century the hook area was under the occupation of Vikings or Normans yet the beacon continued to burn during these turbulent times. When Hook Head Lighthouse was automated in 1996 it then became one of the most popular visitor centres in the South East with guided tours, cafe and gift shop. In winter or summer Hook Lighthouse offers spectacular views from its balcony.
www.hooktourism.com
Tintern Abbey
This abbey was built around 1200 by William Marshal whose ship was damaged by a storm on its voyage from England. William Marshal vowed that if they survived the storm he would build a church wherever they landed. Tintern Abbey is a National Monument that is visited by huge numbers every year. Restoration work on the abbey by The Office of Public Works (OPW) is continuous.
Dunbrody Abbey
The spectacular Ruins of Dunbrody abbey a Cistercian monastery which was built around 1170 by Strongbow's uncle Hervey de Monte Marisco its first Abbot who was the Marshall of King Henry 11. This monastery has a lot of turbulent history with rebellious monks and abbots deposed. It is very accessible and nearby are some tea rooms where you can relax.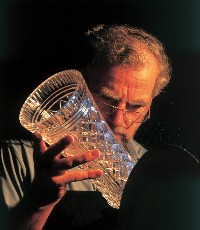 The Irish National Heritage Park
Just outside Wexford town, The Irish National Heritage Park takes you back through 9000 years of Irish History. It will give you an insight into what Ireland was like thousands of years ago. There is a restaurant and gift shop on site.
www.inhp.com
The Dunbrody Famine Ship, New Ross
A visit to The Dunbrody Ship will take you back about 150 years when emigration to New York was the only option for many Irish People. The tour will give you an authentic feel to what life was like for emigrants leaving Ireland. This tour brings history to life.
www.dunbrody.com
JFK Gardens & Arboretum
Dedicated to the memory of U S President John F Kennedy. It was opened in 1968 by the then Irish President Eamon de Valera. The park covers almost 500 acres and had thousands of varieties' of plants, trees and shrubs. There is also a viewing point high above the park with spectacular views of the Suir Estuary and you can see six Irish counties.
www.heritageireland.ie
Kennedy Homestead, Dunganstown, New Ross
The birthplace of President John F Kennedy's great grandfather. It give a history of this great Irish/American family.
www.kennedyhomestead.com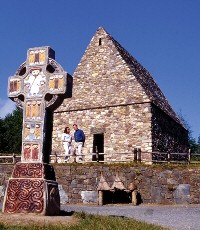 Waterford Crystal Visitor Centre
One of the most popular visitor attractions in Ireland has a magnificent collection of crystal on display in the gallery as well as a shop. The Waterford Crystal Tour is not to be missed.
www.waterfordvisitorcentre.com
Waterford Treasures
Waterford Treasures is a museum rich in history and will give you an insight into what life was like in Waterford more than 1000 years ago. There are many artefacts on display as well as hundreds of photographs giving a vivid picture of life through many decades. There is a restaurant adjoining Waterford Treasures as well as The Tourist Information Office.
www.waterfordtreasures.com
Waterford and Suir Valley Railway, Kilmeaden
The Waterford & Suir Valley Railway is a community heritage project. The railway is a 12 km narrow gauge track that runs on the disused Waterford to Dungarvan railway line. It uses volunteer crews and operates April to September. Its office is located just outside the village of Kilmeaden. Its office and shop is an old railway carriage where refreshments are also served.
www.wsvrailway.ie
Waterford Greenway
The recently opened Waterford Greenway is a spectacular 46km off-road cycling and walking trail along the old railway line between Waterford and Dungaravn with plenty of coffee shops and little villages along the way. The perfect activity for a dry day.
www.visitwaterfordgreenway.com
Other Visitor Attractions
Splashworld Tramore
Tramore Amusement Park
Christchurch Cathedral
Rosslare Ferryport
Reginalds Tower
Kilmore Quay
Waterford Airport
The Copper Coast European Geo Park
Kilmokea Gardens
Golf Clubs including - Dunmore East Golf Club, Faithleg Golf Club, Waterford Castle Golf, Waterford Golf Club, Dungarvan Golf Club, New Ross Golf Club, Mount Juliet Golf Club are just some that are within easy reach of The ShannonShannon East Car Ferry.
By Hook Or By Crook
This saying is reputed to have originated when during the Norman invasion in 1170 their leader Strongbow, the Earl of Pembroke stated that he would "Take Waterford by Hook or by Crooke" He was referring to Hook Head on the Wexford side and Crooke Castle on the Waterford side of the Suir estuary. And history recalls that Strongbow did take Waterford.
For further details of these and many more attractions in Ireland's Sunny South East visit www.discoverireland.ie/southeast.
The South East Coastal Drive
Whether you are looking to pass the day touring and sightseeing or opting for a more scenic route while traveling east or west on quieter roads, the South East Coastal Drive is for you. The drive uses our ferry to cross the River Suir at ShannonShannon East / Ballyhack. You can download the South East Coastal Drive Map on this website. (Requires Adobe Reader).