Things to do in Co.Kerry
Tarbert Bridewell Visitor Centre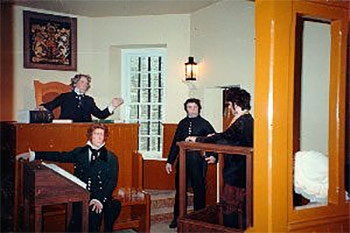 Tarbert Bridewell Visitor Centre
Tarbert
Kerry
Republic of Ireland

+353 68 36500
tarbertbridewell@eircom.net
www.tarbertbridewell.com

Tarbert Bridewell, in Tarbert county Kerry, was a courthouse and a jail back in the 1930's. It is a magnificent stone building built around 1831. It was one of six Bridewells built in Kerry and the only building of that era that could be restored.
You will meet the accused, share his anguish, witness the rough justice of Ireland in the 1830's, see the exercise yard, keeper's quarters and the courtroom with its amplification depicting the harsh voice of the judiciary handing down the sentence to the accused.
There are life size figures depicting the lives of people back in the famine days. There is a room devoted to Charles McCreevy, a renowned poet and writer who was born in Tarbert, where you can sit down and watch a video on his life.The Bridewell also offers a coffee shop, gift shop and tourist information point. Guided tours are available for groups.
Ballybunion South Blue Flag Beach 2013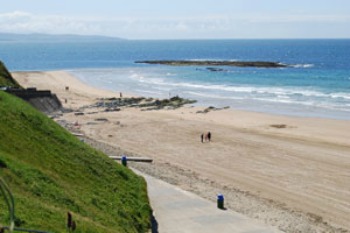 Ballybunion South Blue Flag Beach 2013
Ballybunion
Kerry
Republic of Ireland

+353 66 7121288
www.blueflag.org

Ballybunion South Beach is a Blue Flag Beach of 2013. It is a beautiful stretch of golden sand surrounded by rocky headlands and high cliffs overlooked by a picture perfect castle. This beach is lifeguarded during the bathing season and more information can be found on the notice board located at the beach.

The area is within a proposed Natural Heritage Area and also forms part of the Lower River Shannon Special Area of Conservation.
Muckross House, Gardens And Traditional Farms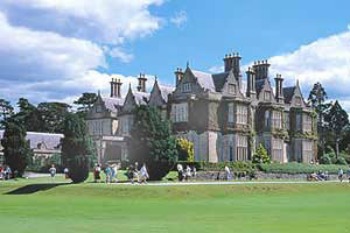 Muckross House, Gardens And Traditional Farms
Muckross House
Killarney National Park
Killarney
Kerry
Republic of Ireland

+353 64 6670144
info@muckross-house.ie
www.muckross-house.ie

This magnificent Victorian mansion - one of Ireland's leading stately homes - is situated amidst the spectacular scenery of Killarney National Park in County Kerry. The elegantly furnished rooms portray the lifestyles of the landed gentry, while downstairs in the basement you can experience the working conditions of the servants employed in the House back in the day. Muckross House is also home to a number of skilled craftworkers, who can be seen using skills in the crafts of weaving, pottery and bookbinding.
Many exotic trees and shrubs flourish in the mild climate and sheltered location of the Muckross gardens. Attractive features include a fine collection of rhododendrons and azaleas, an outstanding rock garden on a natural rock outcrop and beautiful tree-fringed lawns.
Tralee Aqua Dome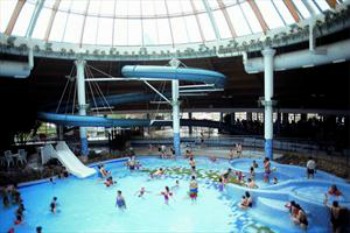 Tralee Aqua Dome
Dan Spring Road
Tralee
Kerry
Republic of Ireland

+353 66 7128899
info@aquadome.ie
http://www.aquadome.ie

The Aqua Dome is a large waterworld featuring waves, rapids, lazy rivers and the famous Flume slide for children. Adults too can enjoy the quiet retreat that is the Health & Sauna Suite. At a constant temperature of 29 degrees Celsius and a huge choice of activities and relaxation option, the entire family will have a splashing good time.

Outdoor facilities include an 18-hole miniature golf course to test your putting skills, plus a remote control truck and boat area. Weather-dependent activities include the Bungee Trampoline, Giant Slide and Bouncing Castle. In the summer season the Aqua Dome offers a café, offering home baking, smoothies, hot chocolate and icecream daily.
Kennedy's All-Weather Pet Farm & Playgrounds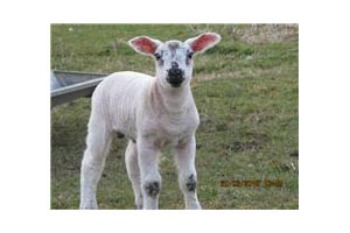 Kennedy's All-Weather Pet Farm & Playgrounds
Brewstersfield
Headford
Killarney
Kerry
Republic of Ireland

+353 64 7754054
kennedysfarm@eircom.net
www.killarneypetfarm.com

Kennedy's All-Weather Pet Farm & Playgrounds is conveniently located just 8km from Killarney. The visit is educational and great fun for kids of all ages. It is an ideal venue for special events and birthdays as well as schools tours. Kennedy's also offer self catering accommodation.There are pets from fur to feather, indoors and outdoors, ready to be cuddled, fed and admired. Animals include deer, pigs, piglets, calves, sheep, lambs, goats, kids, donkeys, pot bellied pigs, rabbits, guinea pigs, cute cuddly puppies, ducks, ducklings, geese and goslings in the pond. Spot 'Freddy' the scarecrow and the mother hen brooding over her fluffy chicks, while 'Prince' the peacock struts her stuff around
Dingle Oceanworld Aquarium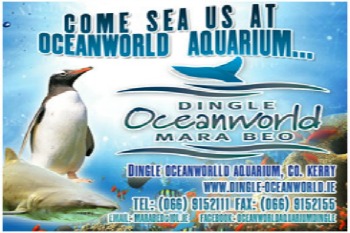 Dingle Oceanworld Aquarium
The Wood
Dingle
Kerry
Republic of Ireland

+353 66 9152111
marabeo@iol.ie
www.dingle-oceanworld.ie

"Dingle Oceanworld was another highlight of our trip…it was magical…the penguins were so cute…it was incredible…friendly and knowledgeable staff" - this is what a visitor said after visiting Dingle Oceanworld Aquarium.

Gaze in wonder as you get up close and personal with the magnificent marine life inhabitants. Submerge yourself in the wonderful enchanted underwater world! Come face-to-face with the most fearsome creatures of the sea: sharks. Gain exclusive access to Sandtiger Sharks! Meet the delightful Polar Penguins and gets hands-on experience at the Touch Tank where you can stroke the friendly Rays and even hold a Starfish. Located in Dingle town in Co Kerry on the Wild Atlantic Way, Dingle Oceanworld Aquarium has the WOW factor! It leaves guests in awe and is yours to be explored and enjoyed all year long.
Blasket View Wild Atlantic Way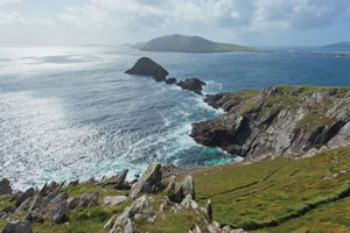 Blaskets View - Wild Atlantic Way

Out on the very edge of Europe, as far west as you can go in Ireland, lies a deserted village with a poignant past. These are the mystical Blasket Islands - an archipelago off the Dingle Peninsula -famous in Ireland for its storytellers. At the beginning of the 20th century, J M Synge was the first of many writers to visit in search of the undiluted traditional culture that could be found in this isolated, far-flung community, living simply and frugally off the land and sea. their stories were transcribed,and the islanders themselves were encouraged to record their own lives. These became the first written works to be published from an oral Gaelic culture, revealing a lyrical, poetic sytle. After many years of hardship and emigration, the last inhabitants left the islands in 1953, when there were no longer enough strong arms left to row their traditional naomhoga (canoes) across the dangerous Blasked Sound. Today you can take a boat to visit the mountainous main island - Great Blasket - to wander among the ruined cottages, then climb An Blascard Mor, spy dolphins and whales, and look west to America, as some many have done before. It's a moving experience, and the natural beauty and poignant echoes of the past will stay with you. Back on the mainland, a visit to the Blasket Centre to meet with its director Micheal de Mordha - a former presenter and producer for RTE Raidio na Galetachta - provides moving insights in the islander's hard lives, the sorrows of emigration, and the literary heritage of the Blaskets.
Torc Waterfall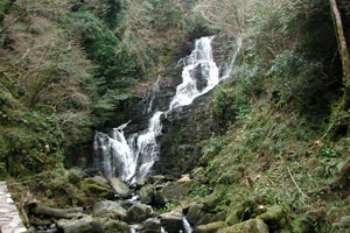 Torc Waterfall
Muckross
Killarney
Kerry
Republic of Ireland

+353 64 6631633

Torc Waterfall is located in County Kerry, approximately 7km from Killarney Town and approx 2.5km from the motor entrance to Muckross House and can be accessed from a car park on the N71 better known as the Killarney – Kenmare Road. A short walk of approx 300m brings visitors to the waterfall. From that point steps lead to another viewing point at a higher altitude that provides a view over the Middle Lake. The path is also part of the Kerry Way long distance walking route and a starting point for circular walking routes which are indicated by a map down at the start of the trail beside the car park. The waterfall which is approximately 18m high is at its best after heavy rainfall. Across the road from the car park jaunting cars can be hired for a trip to Muckross House within the National Park.
Seafari Fun Eco-Nature & Seal Watching Cruises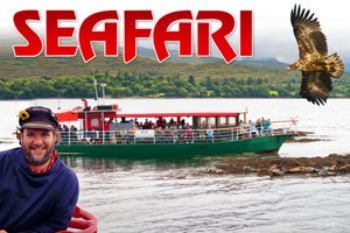 Seafari Fun Eco-Nature & Seal Watching Cruises
No 3 The Pier
Kenmare
Kerry
Republic of Ireland

+353 64 6642059
book@seafari.ie
www.seafari.ie

Cruise routes at Seafari vary constantly depending on tidal levels and weather. There are many islands on the bay, interesting channels and passages which constantly alter the surroundings. They will see birds from the open sea, forest birds and fresh water birds. They often see seals, foxes and deer on the cruise and sometimes dolphins if they are lucky.

The cruise leaves the quaint Kenmare Harbour pier in County Kerry and voyages west down the bay which is sheltered by the Beara peninsula to the south and the Iveragh (Ring of Kerry) peninsula to the north. A special Seafari sweet or lollipop helps you to relax at the start of the cruise. The length of the cruise depends on the weather and tides and normally varies between 6 and 10 miles. There is much to see and observe so like to take their time. A comprehensive commentary given by the captain and guides who have a wealth of information ensures that there is not a dull moment on the cruise.
The Skellig Islands - Na Scealga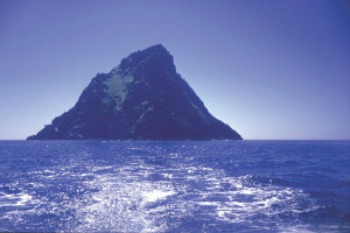 The Skellig Islands - Na Scealga
Skellig Experience
Valentia Island
Kerry
Republic of Ireland

+353 66 9476306
skelligexperience@failteireland.ie
http://www.skelligexperience.com

The Skellig Islands, Skellig Michael and Small Skellig, stand aloof in the Atlantic Ocean some 13km southwest of Valentia Island, County Kerry. From any angle, or from any vantage point on the nearby Ring of Kerry, they are spectacular pinnacles, which have magnetised viewers for generations.
The monastic site on Skellig Micheal is reached by climbing over five hundred steps on up a 1000 year old stone stairway. Stone beehive huts where monks lived and prayed centuries ago cling to cliff edges alongside oratories, a cemetery, stone crosses, holy wells and the Church of St Michael. These isolated archaeological remains show the dramatically spartan conditions in which this early Christian community lived.
Derrynane House, National Historic Park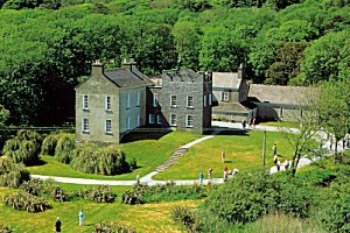 Derrynane House, National Historic Park
Caherdaniel
Kerry
Republic of Ireland
+353 66 9475113
derrynanehouse@opw.ie
www.derrynanehouse.ie

Today some 120 hectares of the lands of Derrynane, together with Derrynane House, make up Derrynane National Historic Park. Plantations and garden walks were laid out in the 18th and 19th Centuries, principally north and west of the house. Some features of the demesne are strongly associated with Daniel O'Connell, including the old summer house. The main area of the gardens, set inland and to the north of the house, can be reached through a tunnel under the road.
Lemonrock Motorcycle Rental & Tours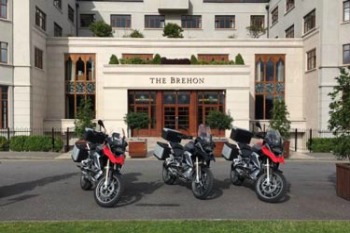 LemonRock Bike Tours - Premium Motorcycle Tours of Ireland
C/O The Brehon Hotel
Killarney
Co Kerry
Killarney Office +353 64 669 4109
USA Customers +001 617 778 2368
Email: bookings@lemonrockbiketours.com
Website: www.lemonrockbiketours.com

Experience, Enthusiasm & Passion
LemonRockBikeTours was founded by Tiernan Clarke, Paul French and Len Rinaldi. Tiernan & Paul are based in Ireland and look after day to day operations of the business. Len, based in London, is our CFO (Chief Fun Officer)! In collaboration with Denis Smith of RoadTrooper and The Brehon Hotel in Killarney, we are bringing the first premium motorcycle rental and touring experience to the Wild Atlantic Way.
With the technical support of BMW Motorrad main dealer, Keary's of Cork, our experience, enthusiasm & passion will bring you the motorcycle trip of a lifetime.
The Wild Atlantic Way is the longest defined coastal riding route…in the world. LemonRock motorcycle tours has designed a trip of a lifetime for discerning motorcyclists who like to ride quality motorcycles and relax in luxurious surroundings by evening. The Wild Atlantic Way is a new fresh experience – when you have done Route 66 and are looking for something new!



Eclipse Ireland Activity & Adventure Centre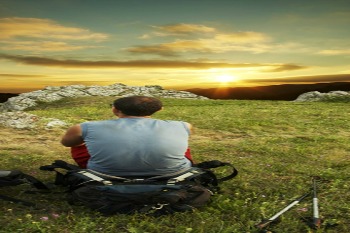 Eclipse Ireland
Dromore Old
Blackwater Bridge
Kenmare
County Kerry
Ireland
Tel: +353 646682965
www.eclipseireland.com

Eclipse Ireland, are Outdoor Adventure and Activity Specialists with a proven track record of excellence. The Eclipse Centre is set in the heart of the lush and rugged Irish countryside located along the Ring of Kerry and the Wild Atlantic Way, amidst stunning scenery of the McGillicuddy Reeks and nestled between the colourful and cultural towns of Kenmare, Sneem and Killarney in the South West of Ireland. Our Outdoor Adventure, Activity and Equestrian Centre includes:
NEW! - Coasteering & Gorge Walking
Orienteering
Military assault course
Mud surfing
Horse riding and pony trekking for all the family
Kayaking
Team building
Fly fishing on our private lake or river
Mountain biking
Archery
4* Self Catering Accommodation in Kenmare, County Kerry with onsite Adventure Activities.
Each of the five spacious Holiday Homes at the Eclipse Centre offers a relaxing, contemporary design defining a well-appointed living environment whilst maintaining charm and distinction. Each unit accommodates between 4 and 7 people depending on house type.
Tralee Bay Wetlands Centre and Nature Reserve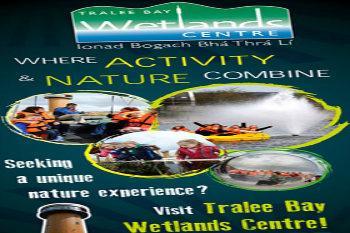 Tralee Bay Wetlands Centre and Nature Reserve
+353 66 7126700
Tralee Bay Wetlands Centre
Ballyard, Tralee, Co Kerry, Ireland
info@traleebaywetlands.org
www.traleebaywetlands.com
Popular at home and abroad with locals, tourists, walking enthusiasts, nature lovers, day trippers, coach groups, garden clubs, school tours and families, Tralee Bay Wetlands Centre is equipped with not only scenic views from the 20 metre Viewing and Observation Tower but also with full visitor facilities, including the Lakeside Café and Bistro, An Interactive Wildlife Exhibition, Guided Nature Boat Tours, Bird Hides, and for the more energetic the light Watersports and Activity Lake!
Vibrant on the one hand, tranquil on the other, Tralee Bay Wetlands Centre is really a fantastic place to visit with facilities and activities to cater for all ages making your visit a uniquely individual experience.
Whether you are looking for an all action activity outdoor day or a quiet and peaceful break from the stresses of modern living, the range of options are here.
With 2 Areas / Zones and a myriad of attractions on site there really is something for everyone!
Tralee Active Travel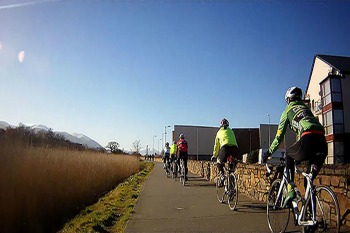 Tralee Active Travel
Town Hall,
Prince's Quay,
Tralee,
Co. Kerry,
Ireland
+353 66 7181319
Web: www.traleeactivetravel.ie
Tralee is one of 9 towns across Ireland to be awarded the Active Travel Town status. Kerry County Council applied for and has been granted 1.3million from the Department of Transport, Tourism and Sport (DTT&S) to deliver the initiative in Tralee Town.
The aim of this programme is to transform the town of Tralee into a Smarter and Active Travel Area, incorporating cycling, walking and public transport into our everyday lives, to school, college or work and reduce our dependency on car travel. The programme is the integration of a behavioural change campaign and the development of infrastructure to support the move from the car to more sustainable transport modes.
Check out the New Smarter Travel Guide to Tralee. It has all the information you need to make the most of the many travel options in Tralee.